Yes....this is another accident that I miraculously turned into something productive! I was trying to make a ruffle, but it ended up being too short. Before I scrapped it - to the trash, I thought what on earth can I do with it now? ...And voila! Here you have it, a pin-cushion for my wrist! I love it so much that I want to wear it as an accessory. That is kind of a joke - but not really. Don't worry I won't leave the house with it on! I was pretty proud of myself so I shared it with my husband. He didn't understand my joy exactly - I said "they sell these things at craft stores. People buy these". He said "I know". Well, regardless of what he thinks...my cup is overflowing with pride - that's all that matters. It's the little things. (He's a boy - he'll never understand this one!)
Gorgeous!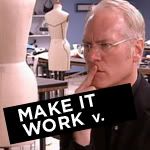 Photo Credit: Refinery 29
Sewing mistakes happen often with me - only twice now I've been able to (
In the words of Tim Gunn)
"Make it work". Click
HERE
to read my other sewing mishap/transformation.