Don't you hate it when they discontinue a product that you fall in love with. It happens to me all the time with hair products, makeup, and nail polish. About a year ago I tried Maybelline Instant Age Rewind Compact Cream Foundation. I have hyper-pigmentation, so my skin color is uneven and blotchy. I fell in love with that product immediately because it blended my skin so well and it managed to camouflage my wrinkles at the same time. It was wonderful, but when it was gone, I went to buy more and I found out it was replaced with this roll on product. (Photo Below) I wasn't ready to tackle this contraption, so in the months following, I tried several other products. I even tried the dried compressed powder that was in the same product line as the one I loved, but nothing even came close to the results I had with the compact cream foundation.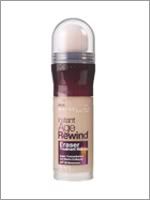 The other day, I was at the grocery store and my cart and I ended up in the make-up aisle. (Some people go to Saks for make-up, I go "Kroger-ing".) This product was on sale, and since I haven't been successful finding a back-up to my favorite discontinued product, I decided to buy it and try it - since they say it's the replacement to my favorite product. The reviews on this product online are very mixed, but I think I've found a winner. The words Instant Age Rewind sounds like a good way to bait you in, but I actually thought that it did a great job concealing my wrinkles. They didn't go away but they were definitely less apparent. It goes on very easy and blends my skin tones really well. It also has an SPF 18 sunscreen!
TIP: If you decide to try it - take this advice that I once heard. When you're shopping for a product for your face - narrow the colors down to two close options to your skin color and then go with the darker of the two. This method works every time!