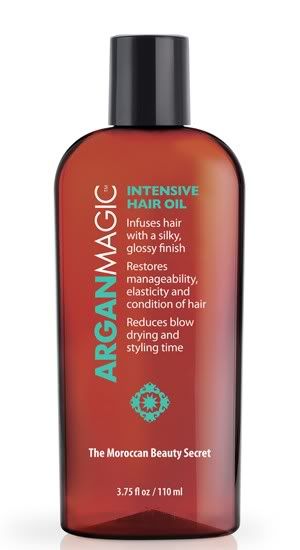 I keep hearing the buzz about Moroccan Hair Oil and how fabulous it is. Everyone that I know who has tried it...loves it and raves about it so it was time for me to give it a shot. I have naturally wavy hair that I straighten everyday and now that my hair has gotten longer, I struggle with keeping it shiny and healthy.
Argan Magic
Intensive Hair Oil claims to do the following three things:
1. Infuses hair with a silky glossy finish.
2. Restores manageability, elasticity & condition of hair.
3. Reduces blow drying and styling time.
Sounds like a dream come true right? I thought to myself "is this some kind of cruel bait-you-in tactic or is this for real?"
So...I took matters into my own hands and gave it a try. I washed and towel dried my hair as usual, combed it out and applied a dime size amount into the palm of my hand and worked it through my hair. (The bottle says to go root to tips - but I always go tips to roots so my roots don't get too much and appear oily.)
The bottle says it can reduce drying time up to 50%. I am border line about ready to chop my hair off because of the time I spend daily drying it so I was anxious to see if that was true. I didn't time myself, but I definitely think it sped up the process! Woo-hoo! ...But the fabulousness doesn't end there! After blow-drying and straightening my hair I had that wonderful fresh hair cut feeling. My hair was shiny and smooth root to tip. So, I can honestly say that the Argan Magic Intensive Hair Oil does do everything that it claims. This is a fantastic product and I recommend it to anyone who needs to re-vamp their hair routine. Now that I love this product I am curious about trying some other
Argan Magic
products...like the hair mask - perhaps!?
I picked up my bottle at a local drugstore for around $10-$11 - which is a total steal. It's $18 on their website so if you decide to give this product a try, you might want to shop around first.