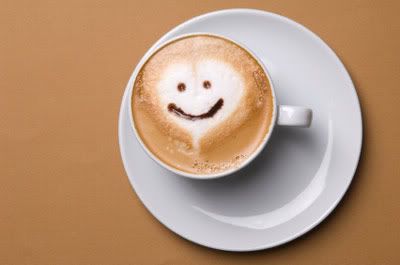 Things are heating up outside, so for this Frothy Friday, I'm sharing a coffee drink that will cool you off. I don't know about you, but I love Caramel coffee. I found this delicious chilled caramel coffee recipe HERE and it sounds like a piece of cake to make!

(Follow that link if you want to read up on other tasty coffee creations.)(Photo is not the Caramel Coffee recipe.
It was just a pic that was too cute to pass up.)

Ingredients:
Directions:
Add caramel and sugar to coffee while hot.

Allow coffee to chill.

Once cool, fill cup with ice, pour in coffee mixture, top with half and half, stir.

Top with whipped topping and a drizzle of caramel.

Sit back, sip, relax, & enjoy.
Have a gorgeous weekend everyone!
Oh...& there's new stuff in the Shop!

The Paisley Tab
is
HOT
! Please
Fan Us
!