A couple of weeks ago, my
cousin
and her husband were in town for a visit and we went to
Brugge Brasserie
, one of my favorite local restaurants. I ordered the same thing I get every time, and convinced my cousin to order the same: Beef Stew. Its one of those dishes that just warms you from the inside out and makes you feel cozy, full, & happy. Every time I get it, I say I need to make this. I, however have put off making it for the longest time because I know there are thousands of recipes out there for beef stew - and I didn't want just any beef stew, I wanted my stew to taste like
Brugge's
. Well, I worked up some courage and attempted it on Friday night. I'm not trying to toot my own horn, but I have to say I lucked out on my first attempt! It was out of this world! I was thrilled and so was my husband. Scroll down for the recipe! The pics below, don't give it justice, but take it from me, it is a perfect meal for the long, cold months we have ahead of us!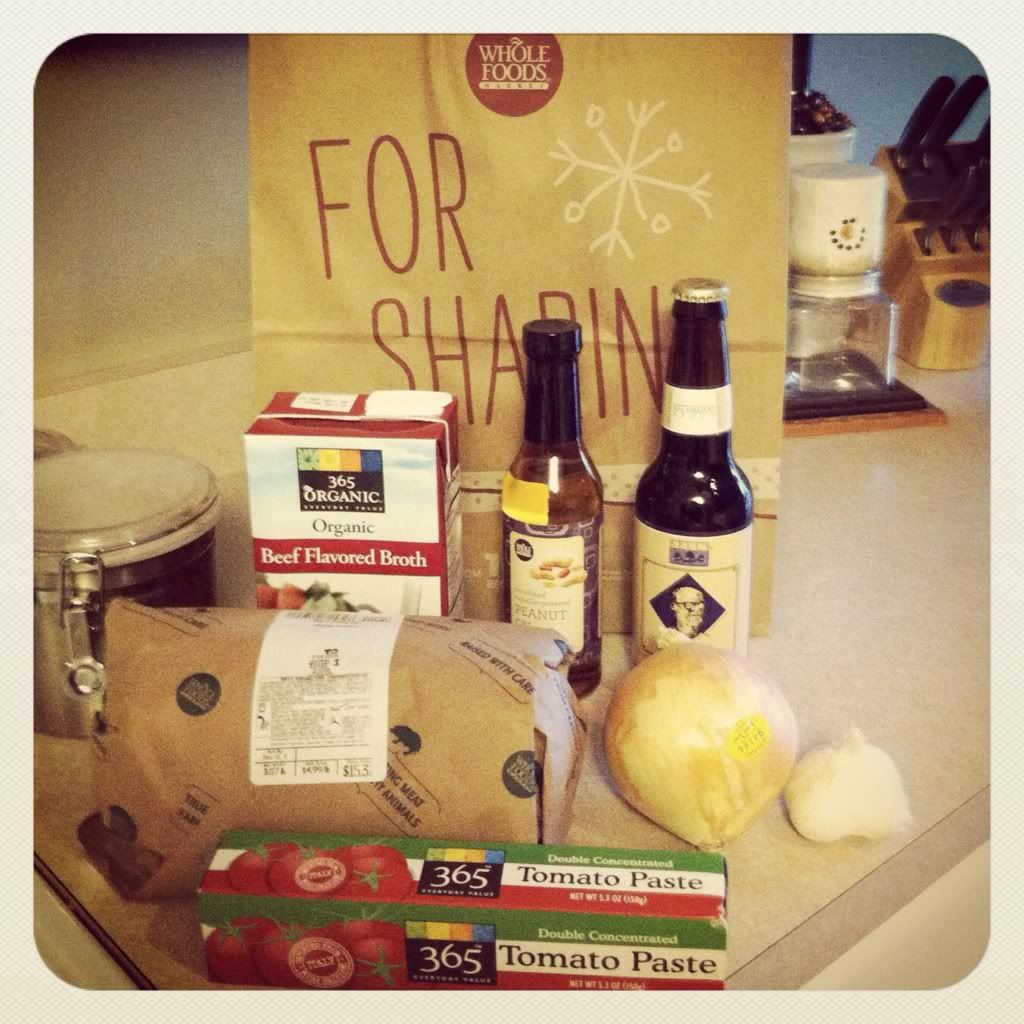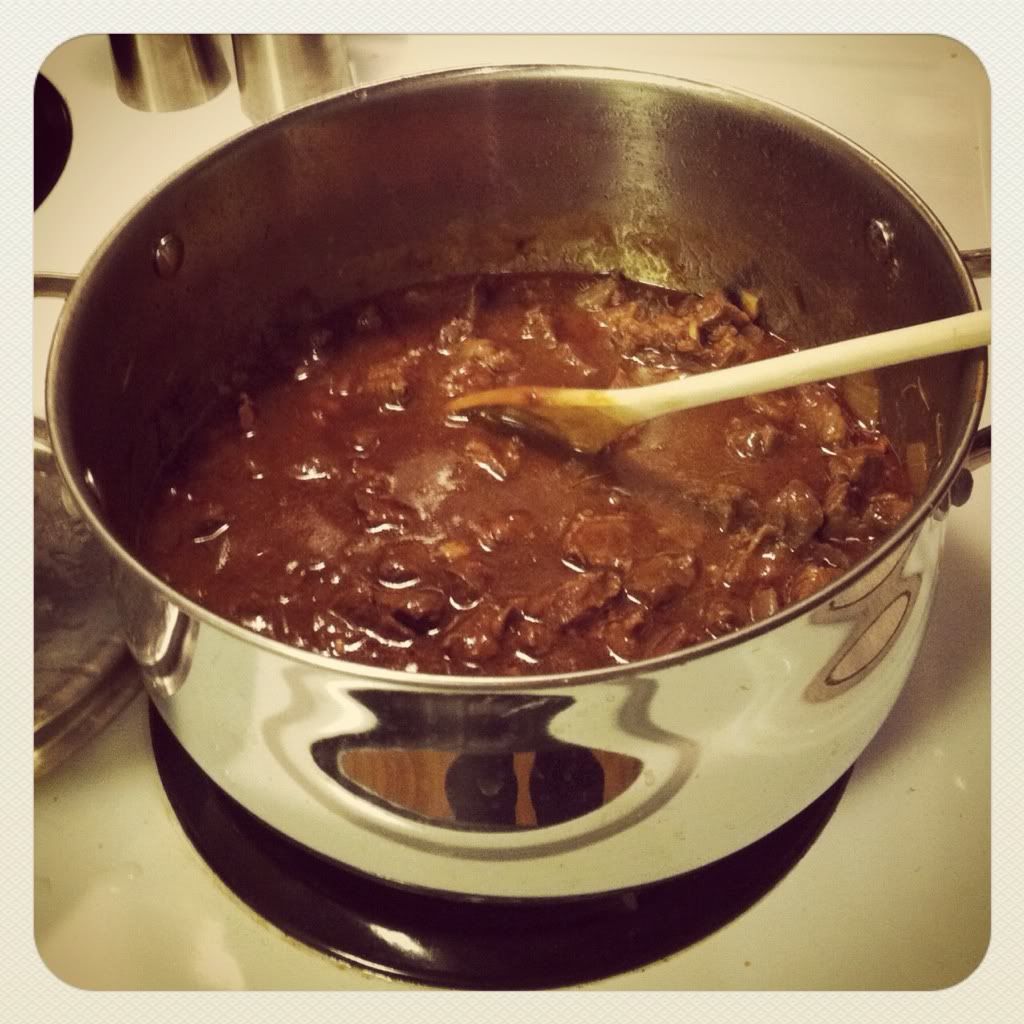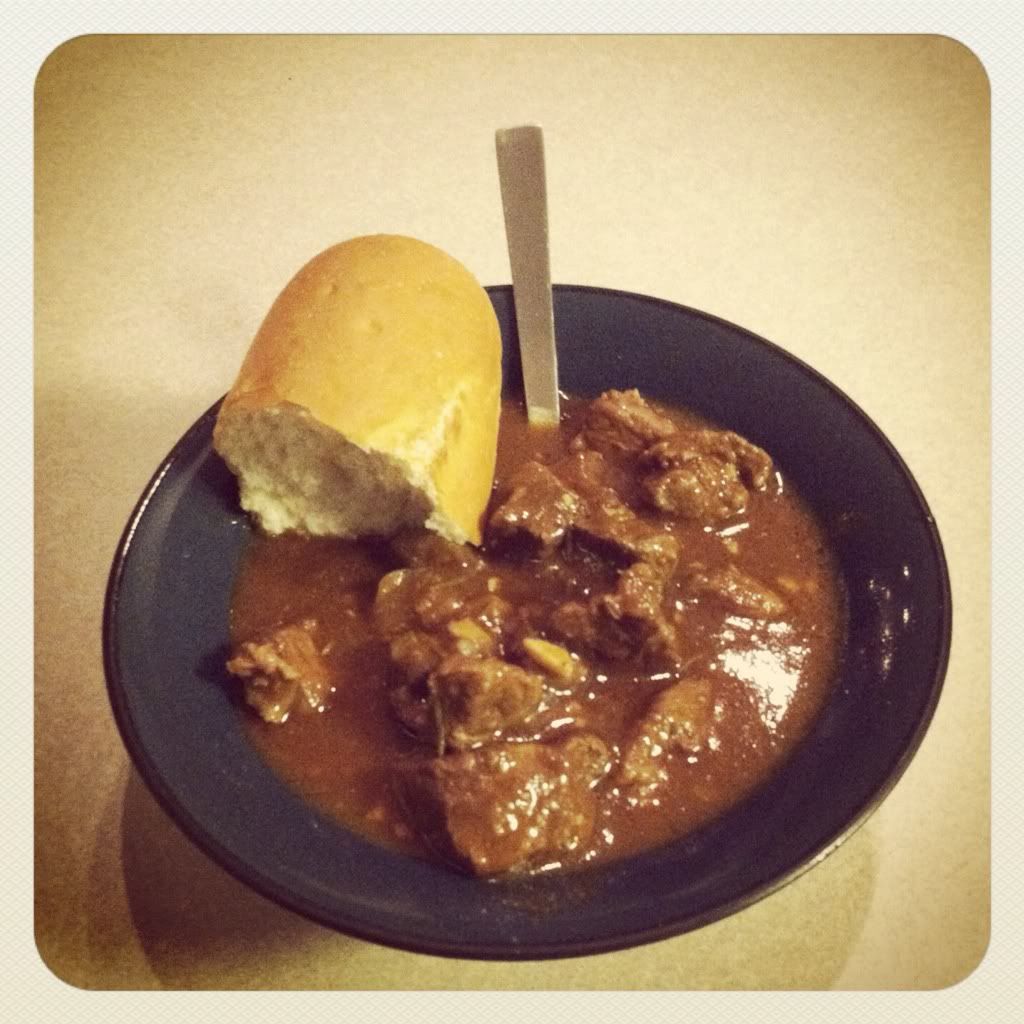 I found this recipe through the handy-dandy
Epicurious
app on my iphone, but it was originally published in the April 2008 issue of Bon Appétit. I followed everything in this recipe, except I left out the carrots.
Beef & Carrot Stew with Dark Beer
2 tablespoons peanut oil
1 3-pound boneless beef chuck roast, cut into 1 1/2-inch chunks
2 cups chopped onions
4 garlic cloves, smashed
4 teaspoons chopped fresh sage and/or rosemary
2 tablespoons tomato paste
2 tablespoons all purpose flour
1 12-ounce bottle dark beer (such as stout)
1 14-ounce can low-salt beef broth
1 pound baby carrots with some green tops attached, peeled

Heat oil in heavy large pot over medium-high heat. Sprinkle beef with salt and pepper. Working in batches, add to pot and sauté until browned, about 8 minutes per batch. Transfer to bowl. Add onions, garlic, and herbs to pot; sprinkle with salt and pepper. Reduce heat to medium; sauté until onions begin to soften, about 5 minutes. Add tomato paste and flour; stir 1 minute. Add beer; stir until thick and smooth, scraping up browned bits, about 2 minutes. Add broth, then beef with any juices; bring to simmer. Cover partially, reduce heat to medium-low, and simmer 45 minutes. Add carrots; simmer partially covered until beef and carrots are tender, stirring occasionally, about 45 minutes. Season with salt and pepper.
Try it, You will love it.