Turn your jewelry into a piece of art.
I don't know about you, but I frequently find myself frustrated, wasting valuable time untangling my knotted necklaces - which usually results in something getting damaged. Here are some clever ideas that others have created to display their jewelry. Exactly what I need. Simple, clean ideas. Easy to see, never tangled, never lost, never damaged. GORGEOUS!
Framed Jewelry Display Ideas
via
via

Clean & Simple Frame with Hooks
via

Antique Printers Tray

(Shadowbox)

with Hooks
Pegboard & Decorative Knobs
Additional Jewelry Display Ideas
via

Towel Rack with Shower Curtain Hooks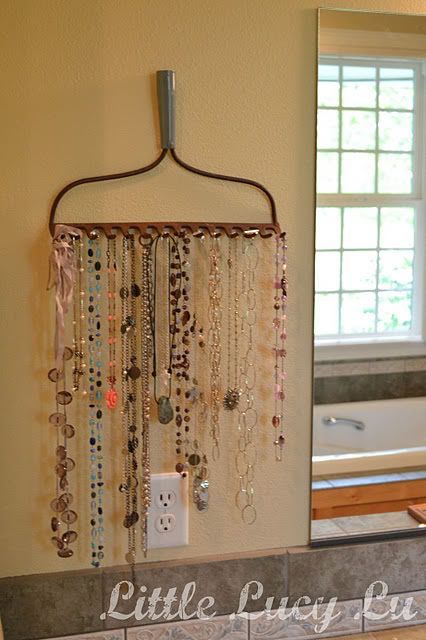 via

Antique Rake
via
Hanger with Hooks
If you L O V E these ideas, but don't feel like making your own, check out E T S Y for some lovely, handmade jewelry displays that others have made!