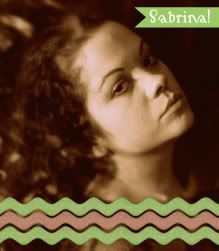 It was a pleasure getting to know you!
1) How did your blog come about?
Two years ago, before we were married, my husband and I moved into our first apartment together. I was searching online for decorating ideas when I came across blogs like "sfgirlbybay" and "dottie angel". I was immediately smitten, and decided to try my hand at blogging. In the beginning, the blog was simply called "brina's blog".
2) What inspires you?
I've always been a creative girl, and I love all things pretty, bright, and crafty. I spend a lot of time browsing sites such as flickr and Pinterest. I also get inspiration from other bloggers: Laura of VioletBella, Elsie and Rachel of Red Velvet, and Tif of dottie angel, to name a few.
3) How do you spend your free time?
I work in retail and have to deal with the public on a daily basis, so I sort of "hibernate" at home when I don't have to work. I usually spend my time there working on some sort of art or craft project, or online, blogging, looking through etsy, or browsing flickr and Pinterest.
4) Do you have a shop? If so, please share.
My shop is also called "the doubtful pixie". Right now I have a few items listed, but it's my goal to eventually have at least one full page. I would like to specialize in home decor items.
5) What are your hobbies?
My hobbies include drawing, painting, crocheting, sewing, graphic design, photography, and decorating.
6) What word best describes you?
Crafty
7) If you could share one secret of your success, what would it be?
Don't give up. For a long time, no one read my blog. It was kind of upsetting, but I didn't let it stop me. I kept writing as if someone WAS reading, because what if someday someone DID? I haven't made a lot of sales out of my Etsy shop either, but I keep trying. Sometimes you have to put out a lot of effort in order for anyone to notice your work. I keep telling myself every little step is worthwhile, and I keep going.