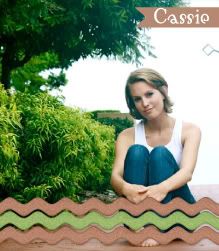 Today I want to introduce you to Cassie from:
L I F E I N
T E C H N I C O L O R !
Cassie has a beautiful blog! It is clean & simple. Ahh - so refreshing!
Confession: I'm a bit jealous of her for her
study abroad opportunity in AUSTRALIA! How Sweet!
I dig her answer to my last question below.
Clearly the world needs more people like Cassie!
How did your blog come about?
I originally started my blog in 2009 as a way to keep in touch with friends and family. I
was preparing for a semester in Australia and it was such a useful way to share my
stories and photos! I really enjoyed using the blog as a platform for creative writing, so I
decided to continue it when I came home. Since then, it's turned into a huge place of
comfort and freedom as I sit at my non-fulfilling desk job all day. When I get the chance,
I enjoy posting about design, fashion, green-living, the outdoors, and some personal
updates to stay true to my original intent of connecting with family and friends.
What inspires you?
The serious ones? Missionaries serving to spread their faith around the globe, those
who live a thrifty lifestyle so they can give their money to worthy causes, and people
who manage their time and resources wisely. The less-serious-but-still-very-honestones?
Kendi Everyday, the minimalist style and design trends of the Swiss, the Pioneer
Woman, and Pinterest.
How do you spend your free time?
Since getting married in July, I now spend most of my free time with my husband, Will.
We love playing outside (we're kids for life), watching FRIENDS, experimenting with
new recipes in the kitchen, reading, and playing Scrabble. I know, we're fun.
What are your hobbies?
I like to ride my bike, rock climb, hike, drink tea, write, play the guitar, sing, travel, and
learn new things!
What word best describes you?
I asked the person who knows me best, and my hub says, "astounding." He's a winner.
While that's awfully sweet, I'll pick one that might actually give some actual insight to
who I am: "excitable". It doesn't take much to make me laugh and I share in other
peoples' joy very easily.
If you could share one secret of your success, what would it be?
The concept of success is so relative. By the world's standards, it may not look like I
have a long list of successes to brag on. But by my definition of success, I would say
that I have experienced success in relationships with others. My advice in this area
would be to be vulnerable with others, share the deepest parts of yourself, and prioritize
others above yourself.
Do you have a blog that you would like to
have featured
on Coffee Talks & Cat Walks?
...if so, Click HERE.