Meet Colleen, from Paisley Boulevard
(She had me at "Paisley")
FYI - Her vintage shop is to die for!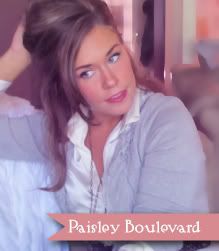 1. How did Paisley Boulevard come to be?
I fell in love with blogs from the day I discovered them. Like, wow, they are all different and funny and creative! I just knew the blogging community was something that I wanted to be a part of and I knew that I wanted a blog of my very own. The whole process of learning html, photo editing, story telling, design...I have googled my way through the whole thing without a lick of outside help. It's such a rewarding creative journey.
2. What Inspires you?
Everything! When I shop, read, listen to music, walk outside...I'm always taking photos and mental notes of things that I find beautiful or that spark an interesting thought or idea that I want to build on.
3. How do you spend your free time?
I thrift, sew, do something crafty, family things. In my most lazy free time I enjoy a good VEG. Hot bath, cozy clothes, stacks of dvds and books, the couch, good takeout, and my blankie! :)
4. Do you have a shop? If so, please share.
I do have a shop! It's a brand new baby Paisley Boulevard Vintage!
http://www.etsy.com/shop/PaisleyBoulevard
5. What are your hobbies? My hobbies are found by the dozens. My most favorite is thrifting. Always.
6. What word best describes you? Eclectic
7.
If you could share one secret of your success, what would it be?
Well, I'd LOVE to, but I don't think I am even close to successful! Seriously, what keeps me going so far is in the fact that I am sticking with this, because I am so smitten with blogging. It's something that I am truly passionate about.
Do you have a blog that you would like to
have featured
on Coffee Talks & Cat Walks?
...if so, Click HERE.