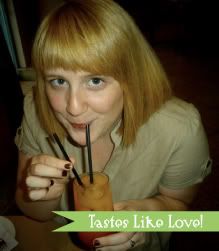 Lauren is an amazing illustrator! After you're done here - hop on over to her
blog
and check them out! She does custom illustrations too! Her blog is a great collection of her adventures in life and all the fun stuff she comes across!
Enjoy
!
1.How did you blog come about?
This time last year I started to draw little character illustrations of girls in cute dresses again and was really inspired to share my drawings. I've previously done a diploma of graphic design and knew that I liked the illustration components best and wanted to develop my own style in my own time. I've had a few blogs in the past, but I never really gave them any effort or time. So I started Tastes Like Love, and after a few months of getting back into the seeing of blogging, it became one of my main focuses and continues to inspire me.

2. What inspires you?
Colour schemes. Sometimes when I'm out and about and see really neat colour schemes, I can start to see drawings or designs or ideas come from them.

Typography. Give me a typographic poster design any day! I love browsing typography sites and playing around with different type faces. It really is one of the more exciting elements of design.

Lifestyle blogs. I love reading blogs about day to day happenings, thoughts and feelings of bloggers. Seeing how other people spend their spare days or weekends inspires me to be more creative with my time.

3. How do you spend your free time?
When my husband Luke isn't at work - which is rare as he is a chef - we spend our spare time together visiting different cafes, having movie nights and going on daily adventures. And the rest of my spare time is spent drawing illustrations, blogging and writing embarrassing postcards to my best friend Lara. I'm also a bit of a fussy cat, so if all the washing is done, i'll find something to wash!

4. Do you have a shop?
I don't have a shop, however, if you'd like to purchase a custom illustration of yourself or a friend, check out my custom page for more info.

5. What are your hobbys?
The older I get, the less guilt free time I have for hobbies. Blogging is definitely my main hobby, I love reading other creative, inspiring lifestyle blogs. Also, two of my old school hobbies are nintendo 64 Mario Party, and Tetris.

6.What word best describes you?
I get 'childlike' a lot.

7.If you could share one secret of your success what would it be?
Its hard to stick to your guns and do what you want to do. But it sure is better than doing what others are doing, or what other people what you to do. When I was studying design, I received very little encourage with my work. In fact, one of my teachers was really mean about illustrations and the girls I drew, and it even crushed my interest to draw them at all. When I finished studying and I moved away, I wasn't under any deadlines or within any creative guidelines so I could draw whatever. And that was when I started to draw again, and to blog again. And doing these things makes me happy. And my idea of being successful with anything is a result of being happy within yourself and sticking to your own guns!